The 10 best Instagram spots in Pattaya
Pattaya is a city on the east coast of Thailand, known mainly for its nightlife and beaches.

We have summarized the 10 most popular Instagram spots in the city for you below: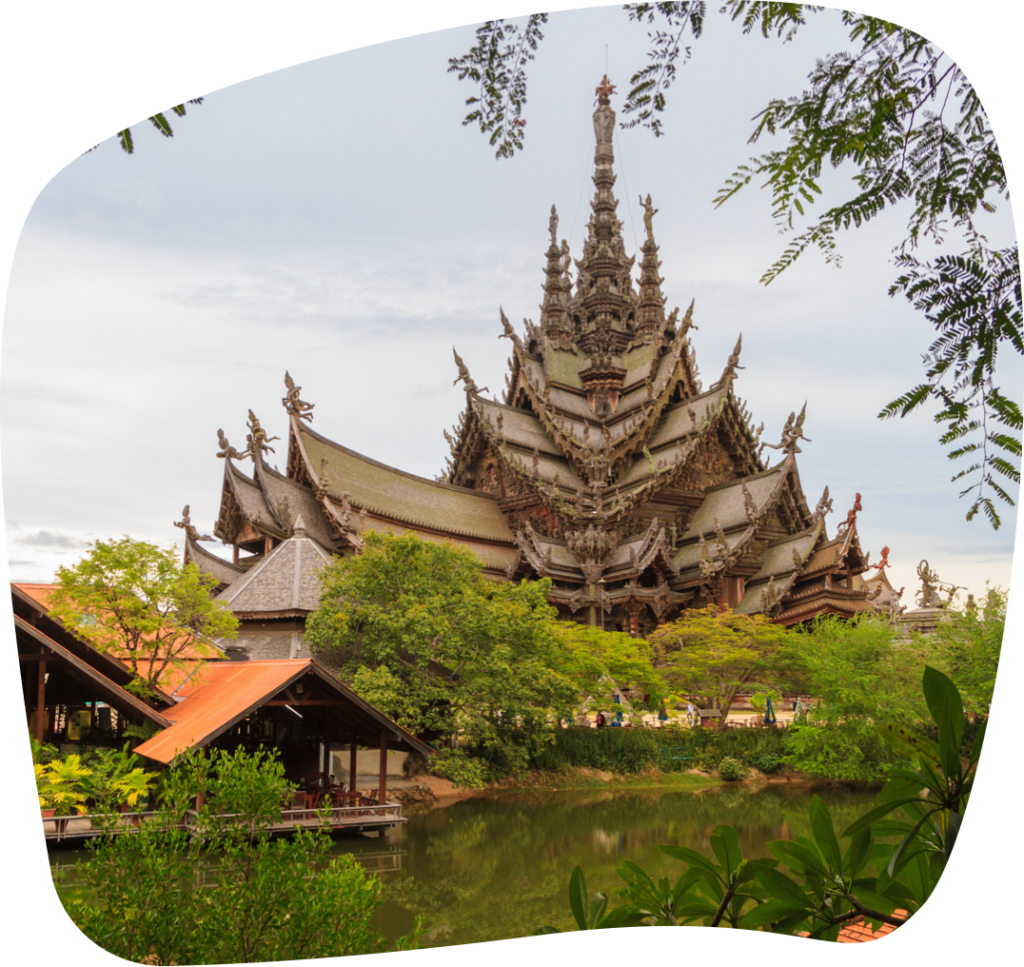 1. The Sanctuary Of Truth
The Sanctuary of Truth in Pattaya is an impressive temple building built entirely of wood. It was started in the 1980s and houses numerous sculptures and ornaments depicting various aspects of Buddhist and Hindu philosophy.
2. Nong Nooch Tropical Botanical Garden
The Nong Nooch Tropical Botanical Garden in Pattaya is a sprawling botanical garden that houses a variety of plant species from around the world. There are also numerous activities and attractions such as elephant shows, Thai dances, garden mazes and a mini zoo. Visitors can also take a garden tour to learn more about the different plants and their meanings.
3. Pattaya Floating Market
Pattaya Floating Market is a popular tourist destination in Pattaya that offers a variety of traditional Thai products and activities. Visitors can rent boats to explore the market's various canals and purchase local food, handicrafts and souvenirs. There are also entertainment options such as traditional music and dance performances that take place on the water.
The Big Buddha Temple, also known as Wat Phra Yai, is a major Buddhist temple in Pattaya. The 12-meter high Buddha statue, which stands on an artificial island in Naklua Bay, is the prominent feature of the temple and can be seen from afar. Visitors can tour the temple and enjoy the view of the city and the sea.
Walking Street in Pattaya is a famous entertainment district, best known for its nightclubs, bars and restaurants. It is a popular place for tourists and locals to party the night away and enjoy live entertainment. There are also numerous stores and street vendors selling souvenirs and memorabilia.
Wat Yannasangwararam is a Buddhist temple in Pattaya known for its magnificent architecture and idyllic garden. The temple was founded by a Thai king in 1976 and houses several impressive buildings, including a main temple, a library and a pavilion. There is also a lake surrounded by a variety of animals and plants.
The Pattaya City Sign is a huge neon sign located at the north end of Beach Road that is a welcome to visitors to the city. It is a popular spot for photos and offers a panoramic view of the city and the sea. It is one of the most popular tourist attractions in Pattaya and a must-see for any visitor.
Mini Siam is a miniature park in Pattaya that presents famous landmarks and sights from Thailand and the world in miniature. There are more than 100 miniatures, including the Grand Palace, Wat Arun and the Angkor Wat complex, as well as famous buildings such as the Empire State Building and the Statue of Liberty. The park also offers interactive activities and a small train that takes visitors around the park. It is a popular destination for families and interested visitors.
9. Art in Paradise Pattaya
Art in Paradise Pattaya is an interactive 3D art museum in Pattaya that allows visitors to immerse themselves in illusionary world. The museum houses several rooms full of 3D artworks that enable visitors to be part of the scene and take photos as if they were actually in those places.
FlowerLand is a botanical garden in Pattaya that specializes in the presentation of flowers. There are a variety of flower species including orchids, roses, lilies and many more. The garden also offers a variety of activities such as garden tours and workshops on caring for and growing flowers. It is an idyllic place for nature lovers and photographers.