The 10 best Instagram spots in Bruges
Picturesque canals, buildings from the Middle Ages, and imposing architecture - the city in northwestern Belgium is perfect for creating content for Instagram.

We have summarized the 10 most popular Instagram spots in the city for you below: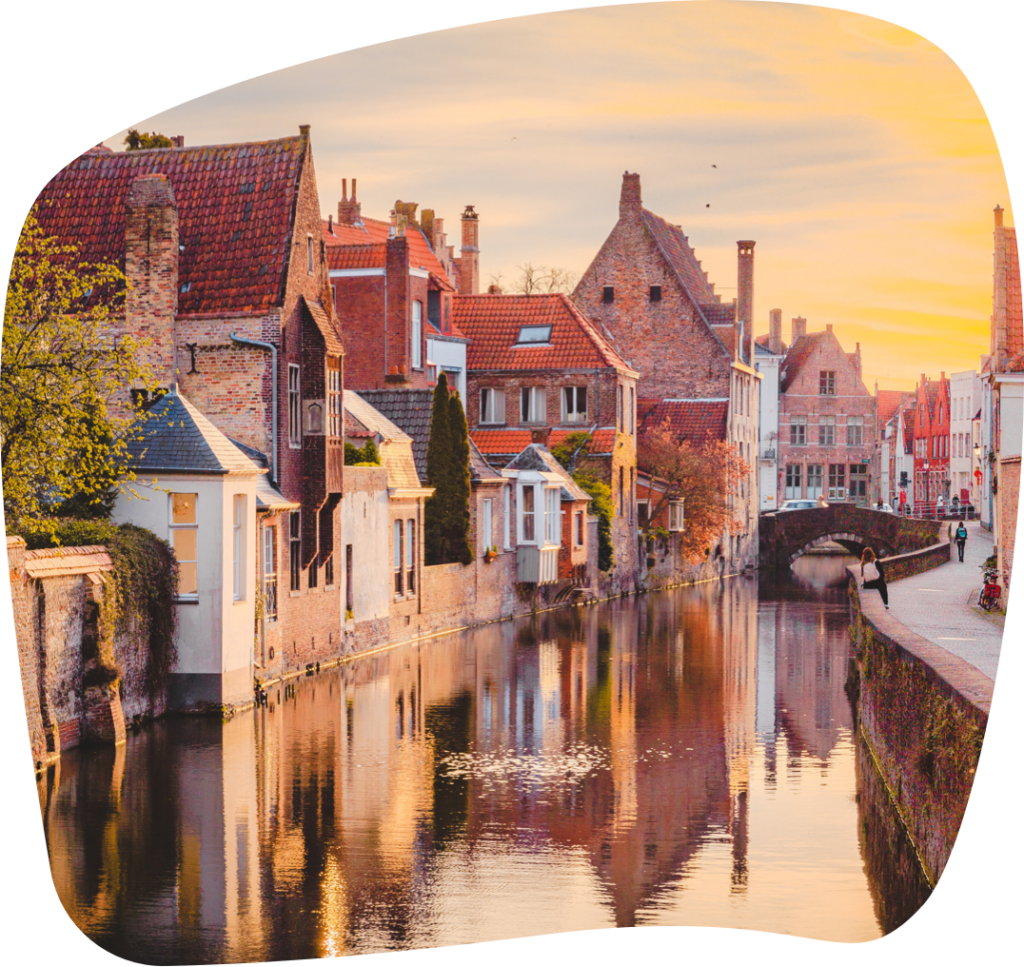 One of the most spectacular Instagram spots is the Church of Our Lady. The Gothic church was partially built as early as the 13th century. With a height of 115 meters, the brick tower is one of the highest towers of its kind in the world.
South of the historic city center, Minnewater Park is another popular Instagram spot. The idyllic nature and lake in the center of the park make it stand out.
A centuries-old traditional Instagram spot is the Rozenhoedkaai, which is also the most popular photo motif of the Belgian metropolis. Both in the winter months and in high summer, the square is recommended as an Instagram motif.
Bruges' central square is the market square, which is ideal as an Instagram spot and has a long history. Since the 13th century, a city center developed around the market, which nowadays can look back on centuries of history.

Tip: Even in the evening hours, a unique panorama awaits you on site, which is recommended for Instagram photos.
The late Gothic town hall is a popular Instagram spot, among other things, because of its architecture. The monumental building was erected in the second half of the 14th century.

Tip: A spectacular highlight is the Gothic hall in the city hall's interior.
A popular place for taking Instagram photos is also the Sint-Janshuismolen mill. The windmill is the only one of the four mills in the city that still grinds grain today.

Tip: From a platform in the upper part of the mill you have a spectacular view of the city wall of Bruges.
One of the most popular Instagram spots in the city is also the Bonifacius Hotel. The hotel was built in the 16th century and is located right next to the city's canal.
8. Groenerei (The Green Canal)
Probably the most beautiful canal in the city is "The Green Canal", the Groenerei. The unique setting with the city skyline and the greenery around the canal makes it a great place to take photos for Instagram.
You shouldn't end your stay in Bruges before taking a photo at the Sint-Salvatorskerkhof. The spectacular architecture makes this place a popular spot for Instagrammers.
One of the most famous chocolatiers in Belgium is Chocolatier Dumon. In the store, which is located on Simon Stevinplein, you can order, among other things, chocolates and the popular chocolate milk.