The 12 best Instagram spots in Philadelphia
In the sixth largest city in the United States, which has a population of around 1.6 million, you will find numerous popular photo motifs.

We have summarized the 12 most popular Instagram spots in the city for you below: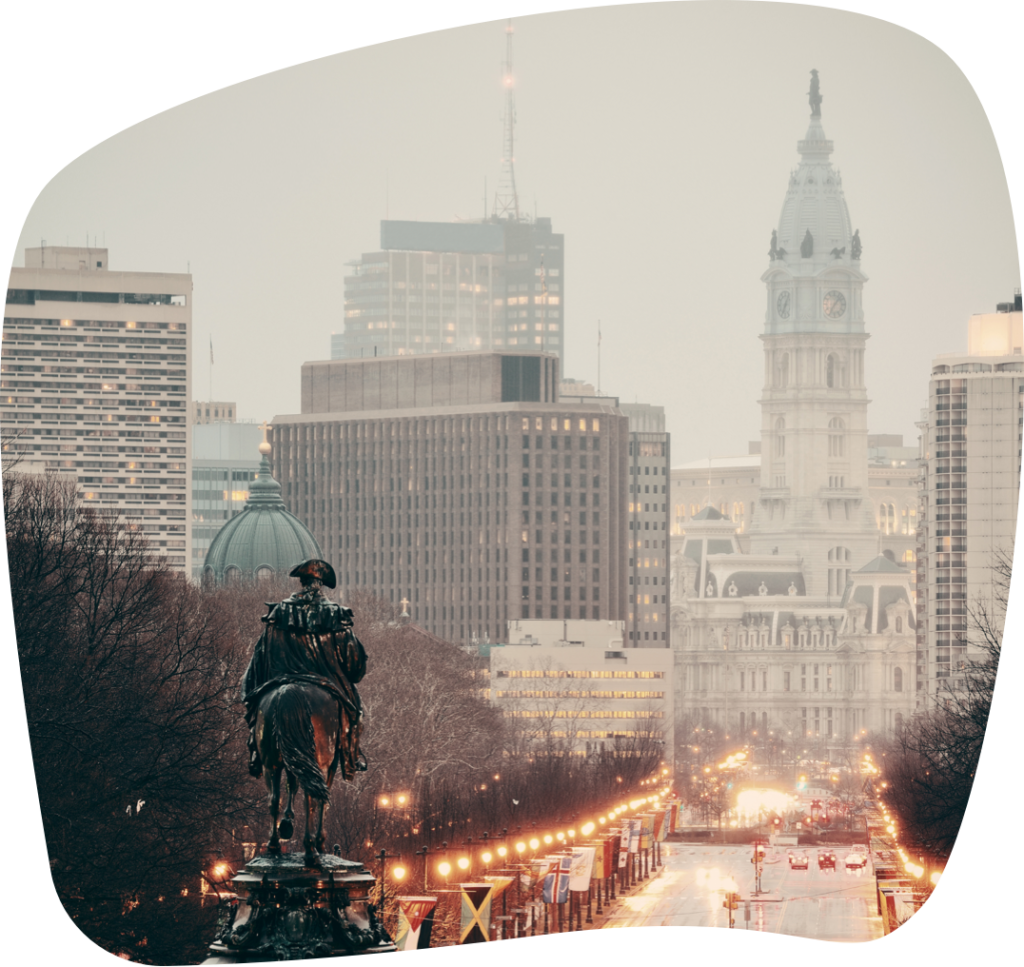 Elfreth's Alley is a historic street designed in the early 18th century. The oldest inhabited street is composed of 32 houses.
The LOVE sculpture is a well-known sculpture in John F. Kennedy Plaza. In 1976, the sculpture was designed by Robert Indiana and is now a popular Instagram spot.
The Rocky Steps are steps in front of the Philadelphia Museum of Art. Made famous by the 1976 film "Rocky," the famous movie stairs, composed of 72 steps, are now a site for spectacular Instagram photos.
Rocky statue is a bronze sculpture, which was built in 1980. The statue is a popular photo motif not only among fans of the boxing legend.
5. Philadelphia's Magic Gardens
An exhibition of numerous mosaics and works of art are Philadelphia's Magic Gardens. The total work of art was opened in 2008.

Tip: Secure your tickets online beforehand to avoid long waiting times on site.
City Hall Philadelphia was built in the Victorian architectural style and is located in Penn Square. Since Philadelphia's City Hall was briefly the world's tallest office building, it is a popular Instagram spot.
7. Mural Arts Philadelphia
Mural Arts Philadelphia is an art center that opened in 1984. The spectacular artworks make it a spectacular photo opportunity.
The Rodin Museum, where works by sculptor Auguste Rodin await you, was opened in 1929. In the art museum you will find, among other things, spectacular sculptures.
9. The Liberty View - Independence Visitor's Center
A popular event venue in Philadelphia is The Liberty View – Independence Visitor's Center. Among other things, the event location is used as a wedding venue. The skyscrapers in the background make the venue a unique photo motif.
Independence Hall is the former legislative building of the US state of Pennsylvania. The Constitution of the United States was signed in the building in 1787. Due to the unique construction of the former parliament building, which was opened in 1753 and has been a UNESCO World Heritage Site since 1979, Independence Hall is a popular Instagram spot.
S Camac Street creates spectacular photos for your Instagram profile because of the special architecture of the buildings and the trees.
A park that is popular with both locals and tourists is Race Street Pier. The park is especially popular for picnics. Due to the unique scenery, this place is a famous Instagram spot.