The 11 best Instagram spots in San Diego
The metropolis on California's Pacific coast is characterized by a variety of attractions, which are also very popular as photo motifs.

We have summarized the 11 most popular Instagram spots in the city for you below: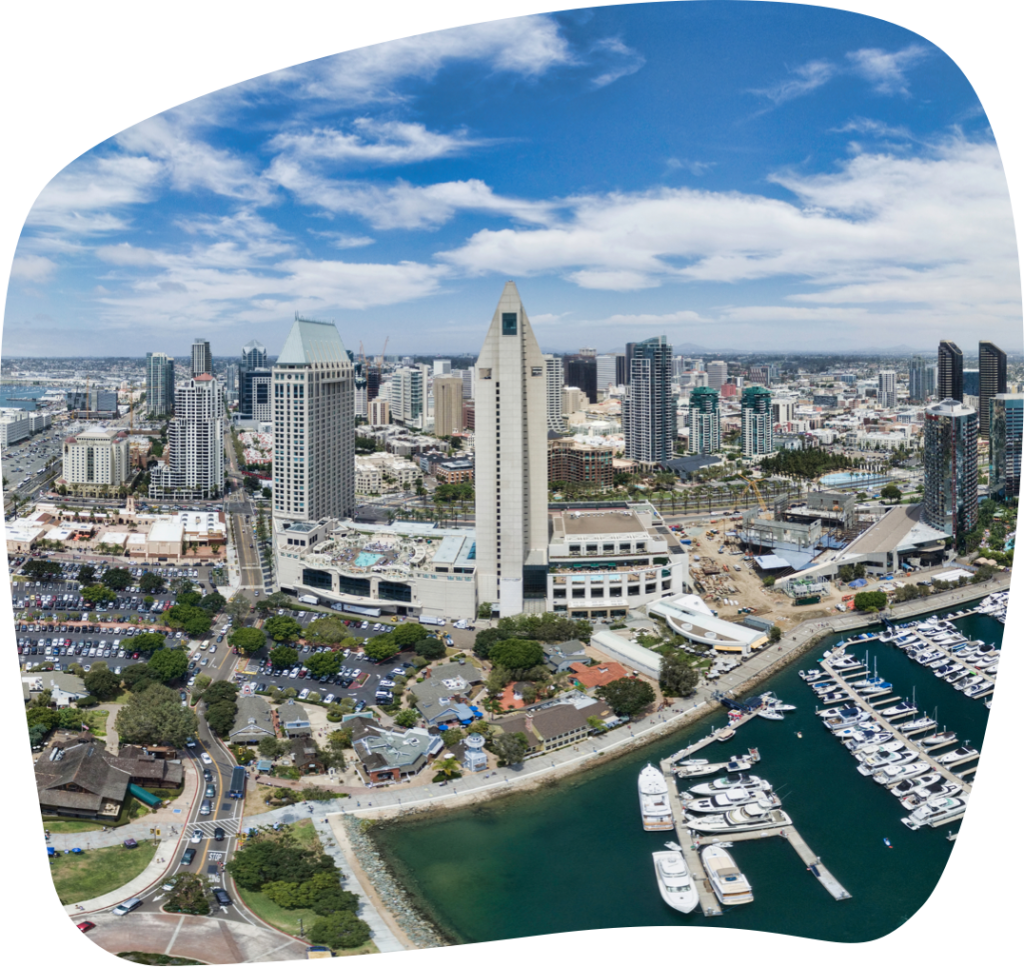 1. Lily Pond - Balboa Park
Probably the most photographed place in the Californian metropolis is the Lily Pond bridge in Balboa Park. Due to the pond and the building complex in the background, Lily Pond is very popular as a photo motif.
2. "Greetings from San Diego" mural
A well-known photo motif is the "Greetings from San Diego" mural. Due to the standout colors, the mural, which was designed by Victor Ving, Lisa Beggs and is a popular photo spot.
The famous Chip Rock takes its name from its resemblance to a potato chip. Every year, the attraction is visited by about 400,000 people. From the rock you also have a unique view of the area.

Info: You can reach the attraction after a hike of about 6.5 miles.
One of the most famous piers in the region is Scripps Pier, which is a popular photo spot in San Diego. The pier was built in 1916 and was rebuilt in the 1980s. Scientists use the Scripps Pier for research and various experiments.
The mural in La Jolla, a popular neighborhood on the coast of San Diego can't be missing on the list of the best Instagram spots in San Diego. Especially the color contrasts make the mural a popular photo motif.
A few kilometers north of San Diego, The Flower Fields awaits you. The garden extends over an area of almost 20 hectares.

Info: The flower garden is open exclusively for about eight weeks a year. Between March and May the flowers bloom.
A popular Instagram spot in the region is Sunset Cliffs. The cliffs, which were opened in 1983, run along the Pacific Ocean. Due to the ocean backdrop, the Sunset Cliffs, which are also excellent for hiking, are very popular as a photo motif.
8. Pink Wall - Pigment Boutique
The pink wall of the Pigment Boutique is one of the most famous photo motifs in San Diego. Artwork, gifts and flowers are available at the store.
9. You are Radiant! mural - Artelexia
Another spectacular mural in the California metropolis is the You are Radiant! Mural. The eye-catching colors and the special slogan make the mural a popular photo motif.
Among the most popular Instagram spots in the region is the beach section Moonlight Beach and the surrounding cliff. The beach section got its name from the midnight picnics of locals and tourists in the 1900s.
The North Park neighborhood is especially popular with students and young adults and is characterized by numerous well-known Instagram spots. A variety of cafes, restaurants and pubs await you in this San Diego neighborhood.

Tip: In the evening hours, the district is also ideal for long walks.