The 10 best Instagram spots in Vienna
Numerous sights await you in the Austrian capital Vienna. Every year, the metropolis is visited by almost eight million tourists, making it one of the ten most popular cities in Europe. Due to the large number of highlights, Vienna is an ideal destination for a city trip.

We have summarized the 10 most popular Instagram spots in the city for you below: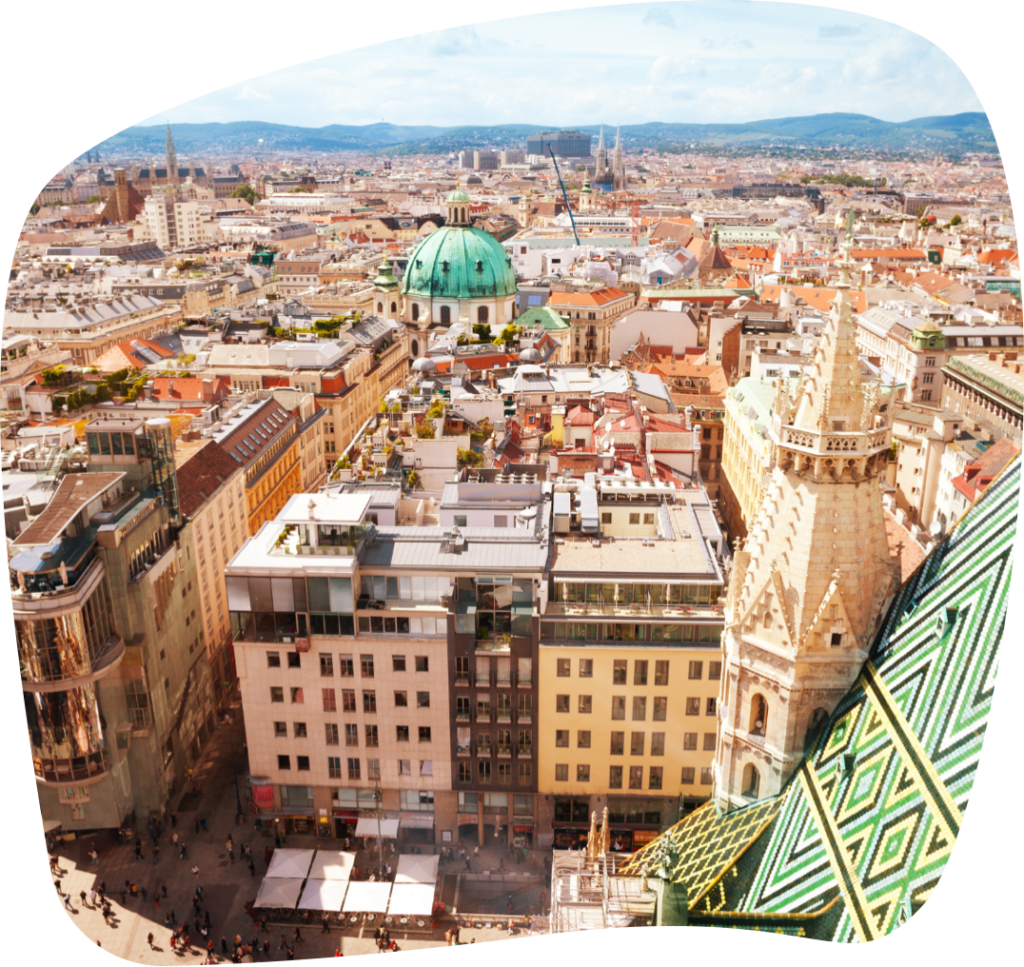 One of the most famous churches in the Baroque architectural style is the Karlskirche. The listed church was built at the beginning of the 18th century and is one of the landmarks of the Austrian capital. The dome of the church is particularly impressive.
2. Francis of Assisi Church
At Mexikoplatz on the Danube is the imposing Franz von Assisi Church. The towers of the Roman Catholic parish church are 73 meters high. The church was built in the architectural style of Art Nouveau.
The Vienna Prater is one of the world's oldest amusement parks. More than 250 attractions await you during a visit to the popular park. One of the most famous attractions in the Prater is the Vienna Giant Ferris Wheel.

Tip: From the Vienna Giant Ferris Wheel you have a unique view of the city. In particular, you can watch the sunset from the gondola.
Belvedere Palace was built in the 18th century and its imposing architecture makes it a real highlight of the Austrian capital. Around the castle is a park. In the castle itself are exhibited works of art worth seeing.
The most popular sight of the metropolis is Schönbrunn Palace, which is included in the list of the most beautiful baroque buildings in Europe. The largest palace in Austria and the surrounding park have been a UNESCO World Heritage Site since 1996.

Tip: Since Schönbrunn Palace is one of the most visited sights in Austria, a visit early in the day is recommended.
6. Austrian national library
Die Österreichische Nationalbibliothek stellt die größte Barock-Bibliothek Europas dar. In der ersten Hälfte des 18. Jahrhunderts wurde die populäre Bibliothek erbaut. Einer der bekanntesten Bibliotheksräume in Europa ist der Prunksaal.
One of the most famous streets in the Austrian capital is the Graben in the Old Town. This pedestrian zone is lined with stores, cafes and restaurants. Therefore, the shopping street experiences great popularity among both locals and tourists.
One of the world's most famous opera houses is the Vienna State Opera. Famous operas are regularly performed here. In 1869, the popular photo motif was opened. Several premieres, including a piece by Mozart, also took place in the opera house.
One of the most famous neo-Gothic sacral buildings in the world is the Votive Church. In 1879, the church, which is located near the University of Vienna, was built. The church is 99 meters high and a three-nave basilica.
10. Schlachthausgasse, or "Cherry Blossom Street"
Schlachthausgasse in downtown Vienna is also called "Cherry Blossom Street". Due to the large number of Japanese cherry blossoms in the street, the alley is a well-known photo motif.

Info: The cherry blossom takes place every year in April. You should keep that in mind when planning your photos. :)