The 10 best Instagram spots in Zurich
Due to its proximity to the water, the mountains as well as the numerous sights, Zurich is considered one of the most livable cities in Europe. The largest city in Switzerland is visited by several million people every year, making it one of the 20 most popular cities in Europe.

We have summarized the 10 most popular Instagram spots in the city for you below: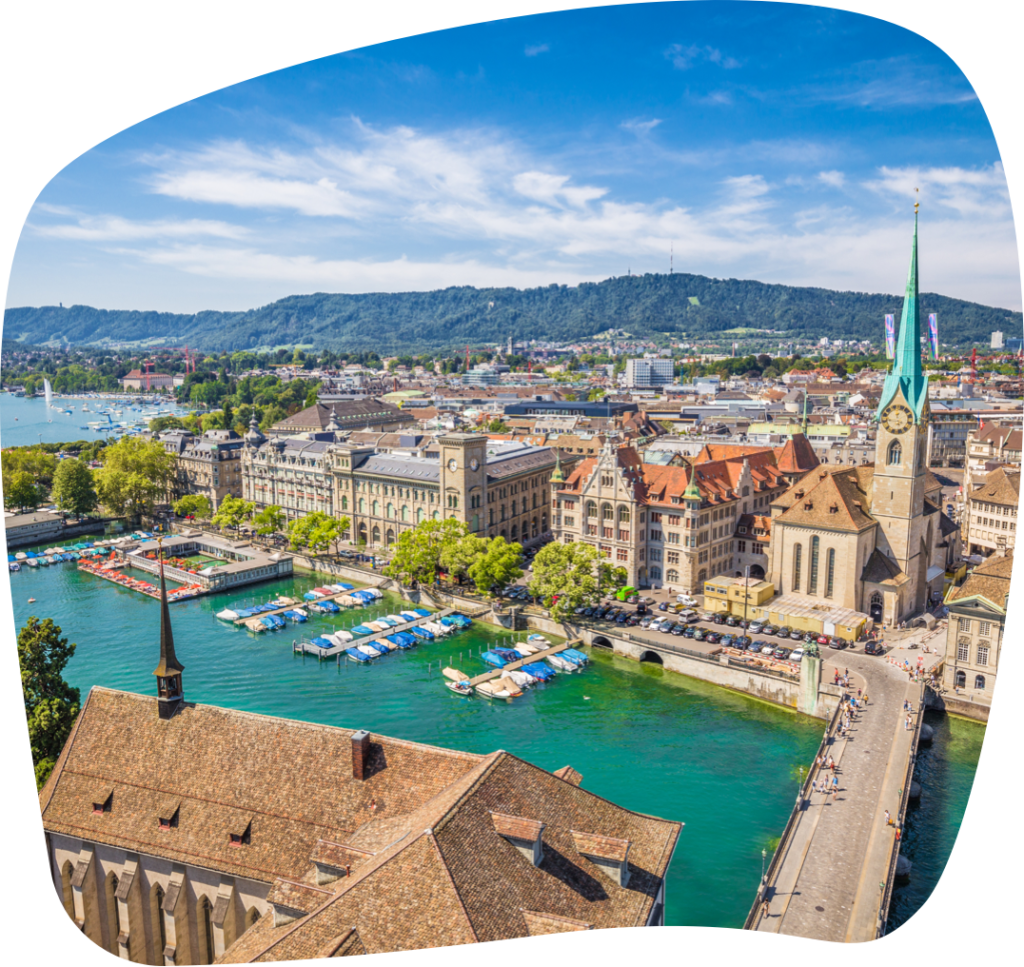 In the southeast of the city center, Lake Zurich is a popular Instagram spot. Especially in the summer months, the lake is a popular destination, as you can swim there or take a boat trip across the lake. Various water sports, such as water skiing, are also possible on Lake Zurich.

Tip: On a boat trip across Lake Zurich you can see the city from a different perspective. You have the choice between different boat trips.
In the heart of the old town you will find the Lindenhof. From the historic square you have a unique view over the old town of Zurich.  In the last centuries several historical events took place on the square.
A central square in the old town is Münsterhof Platz. The history of the well-known square and popular Instagram spot goes back to the 13th century. Cultural events were already held on Zurich's Münsterhof in the Middle Ages.
The Minster bridge connects the two churches Fraumünster and Grossmünster. The arched bridge, built in the first half of the 19th century, is one of the oldest surviving bridges in Zurich. Locals also call the popular photo motif the most beautiful Limmat bridge in the city.
A popular photo motif in the largest city in Switzerland is also Umbrella Alley. The special thing about the street are the colorful umbrellas that are stretched across the street.
Augustinergasse is a medieval alley in the center of Zurich. The historic alley connects the Augustinerkirche with the Bahnhofstrasse. In this street you can discover buildings with a history of several hundred years.
One of the most popular photo motifs in Zurich is the bank of the Limmat. The Limmat has a length of 36 kilometers and flows through the city of Zurich, among other places.
You can find the Evangelical Reformed Church Grossmünster in the old town of Zurich. A special feature of the church are the double towers. The Grossmünster has a centuries-old history.
9. Thermal Bath & Spa Zurich
The Thermal Bath & Spa Zurich is perfect for relaxing . Among other things, there are whirlpools, a thermal bath, a herbal steam bath and a meditation bath on site.

Tip: On the roof of the thermal bath there is an outdoor pool, from which you have a unique view of the city.
Im Stadtviertel Seefeld südlich des Stadtzentrums erwartet Euch der Chinagarten. Der Tempelgarten, der ein beliebtes Fotomotiv ist, eignet sich ideal für einen Spaziergang nach dem Sightseeing. Im Zentrum der Parkanlage befindet sich ein Teich.